We had the pleasure to review one of Gousto's meal boxes for two last week-and what a treat it was!
Not heard of Gousto? Well they are a brilliant company that deliver food boxes right to your door, similar to veg boxes you can get from other companies however Gousto's boxes include everything you need to make the meals.
Everything was packaged nicely in the printed box. I must admit I was intrigued as to how it would be packaged with such a variety of ingredients! 95% of the packing is recyclable and from renewable resources which I think is a great thing for companies these days, the meat and cheese was kept cold with a couple of large ice packs and everything protected by a bag of wool which also helped with keeping it all cool. The box was in to compartments which stopped the vegetables and fruit from getting bruised. The only slight problems we had were that the spring onion looked a little limp and the vinegars had very slightly leaked from their pots and bags, but to be honest I wouldn't know a better way to package these.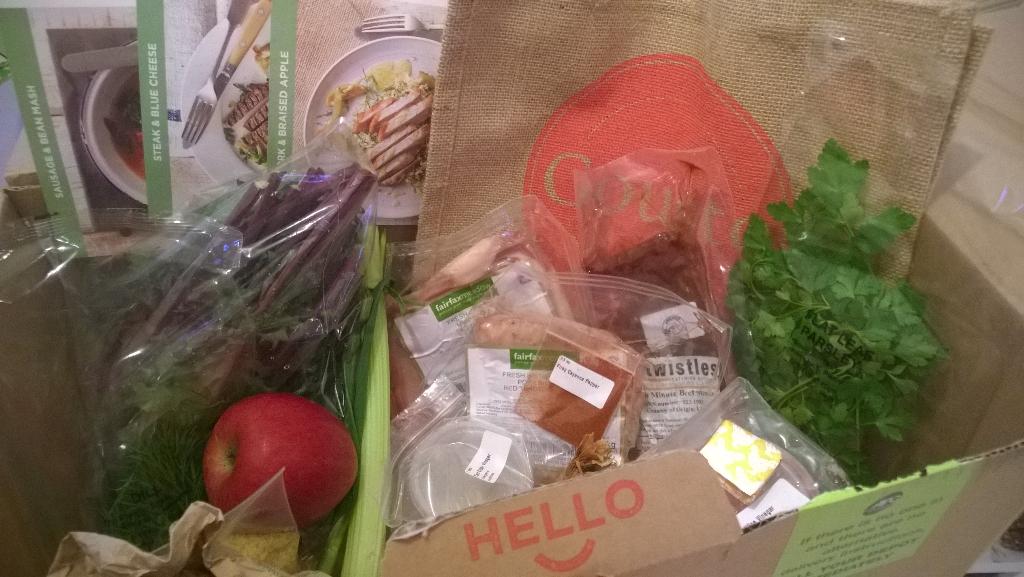 It was very exciting to have all the ingredients ready to go for the meals, I am very much an 'open the cupboards and see what dinner I can make from it' kind of girl normally! As I said all the ingredients are there, the only things we needed extra for our meals were house essentials such as milk, butter, salt, pepper and oil.
We had a box which was for 2 people, which included 3 separate meals:
Each meal has a menu card, showing clearly the ingredients needed, quantities (as you can get boxes for 4 people too), time, cuisine, and calorie count per portion. What I really liked about these recipe cards is the easy step to step instructions with photos for each stage, now I am relatively ok with cooking but if say my hubby or my brother was cooking a meal they may need these photos a bit more than I did (shh I didn't say that about them)! I also came across a video icon on one stage on the pork and apple meal which lead to a short tutorial.
I'd say each meal pretty much took the same amount of time said on the card, I liked that they were all cooked within 15-30mins each, I think I have always been of the thought that tasty meals took ages to prepare and to cook!
All three meals were great, the stilton (which I don't normally like) was delicious, the pork and leek sausages were the best sausages I have eaten in a long time, and I think the pork and apple meal was our favourite out of the 3.
Meat box for 2 people - £34.99 per week

Meat box for 4 people - £49.99 per week

Veggie box for 2 people - £33.99 per week

Veggie box for 4 people - £47.99 per week
If you ever need to cancel or pause you can do so, you just need to make sure you do it before noon on a Sunday before the delivery. I have also discovered you can do a monthly delivery from reading on
their website
Now if I am honest we couldn't afford to get one of these boxes weekly at the moment what with having just moved. But having said that if we did have enough money I would definitely be considering it as it takes the stress out of deciding what you want to eat when on the food shop, everything is ready to go and the meat and vegetables were all of a brilliant quality.
"Our sourcing team channels an unfathomable amount of effort into finding the best possible quality for you. Not that we're complaining, it keeps us in shape! Our smoked fish, for example, comes from a smokehouse in Wiltshire. Our meat is 100% British and always will be. Take our chicken, it's supplied by a family owned butchery in Lancashire (and they get it from Cumbria). And our eggs? They come from a free-range farmer called Steven Rowbottom – you couldn't make it up! He's based a mere 2 miles away from our warehouse, in egg miles that's less than a stone (or egg's) throw. And if all that's not enough, our sourcing team also do their utmost to buy from ethical suppliers like Suma and Mr. Organic, and family-run businesses like Direct Poultry. Phew!"
Also I am not sure about you,but do you end up cooking the same old meals every week or two? Gousto have a nice range of menus and I know from looking at them there are many things I normally wouldn't cook (or even really try as I tend to stick with what I know) so it brings a bit of variety and an eating experience too. They bring out new menus each week for you to choose from so there is always something new and exciting.
Now what I want to know, is there a pudding option somewhere on the horizon too? (Sorry- ever the sweet tooth)!
We recieved one Gousto Meat box for 2 to review, but all opinions are our own.