It's official I woke early this morning after having a wedding nightmare.
To be fair I am quite surprised I've gone on this long without having one!
And in some ways it was good I did as James' alarm hadn't gone off an hour before like it should have done so at least got to work sort of on time, at least more than he would had we both been asleep!!
So back to the nightmare...
We were in a rush so didn't get to do everything we needed to outfit-wise, I was fine however the boys only had the top half of their suits on and rubbish old trousers.
For some reason I didn't have James' uncle pick me up in his car (like we have planned), and we all bundled into my Mum's twingo...a 4 seater car so I was just balancing in the middle of the boy's car seat seats whilst Mum and Dad were in the front.
We then couldn't park in the field (we don't have parking in a field for ours), so drove near the church to discover the wedding before us was still on.
For some reason James came out to tell me this so I then I bashed him round the head so lovingly with my bouquet calling him a d**k for coming out to see me!
Hours passed with guests arriving late and not really caring.
Then it was time to go in, the order of service's hadn't been printed out so some lady was handing out really bad single hymn sheets with party invite style backgrounds on them (perhaps this is due to me needing to print these out still)!
I got in and my dad was in a dressing gown not suit, my Mum had her dress but had awful shoes with it not the lovely deep pink ones to match her bag!
It wasn't our vicar, it was this fat man on his phone, in some old dirty top.
My Nan sat next to me talking and doodling on paper (this is probably because I was doing this yesterday with her organising the flowers for the tables).
And to top it all off it was really dark so our photographer was really annoyed he couldn't get the shots he wanted in the garden.
...
I then woke up!
I think I have too much wedding on the brain!!
It's been all stations go this week, Mum and I marzipanned and iced the fruit cake ready (as our cake maker messed us about!!). I have decorated over 20 jars and bottles for table decorations, I've made the bulk of the table plan, a card sign, sorted the table flowers out and chased up my wedding dress maker (who I haven't heard from in 2 weeks so was getting a little worried)! Alas it is made and I should be getting it this week.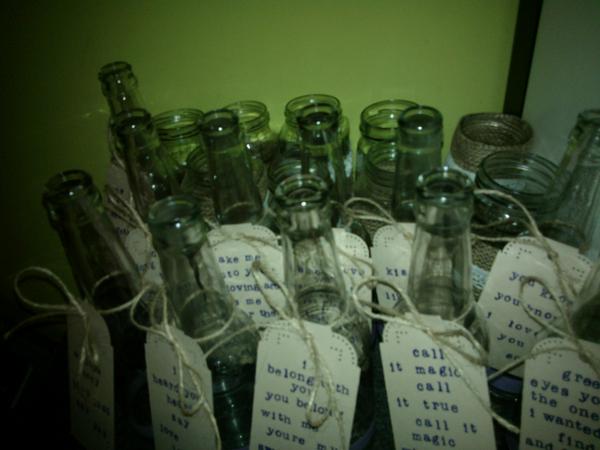 Song lyrics, Hessian and washi tape!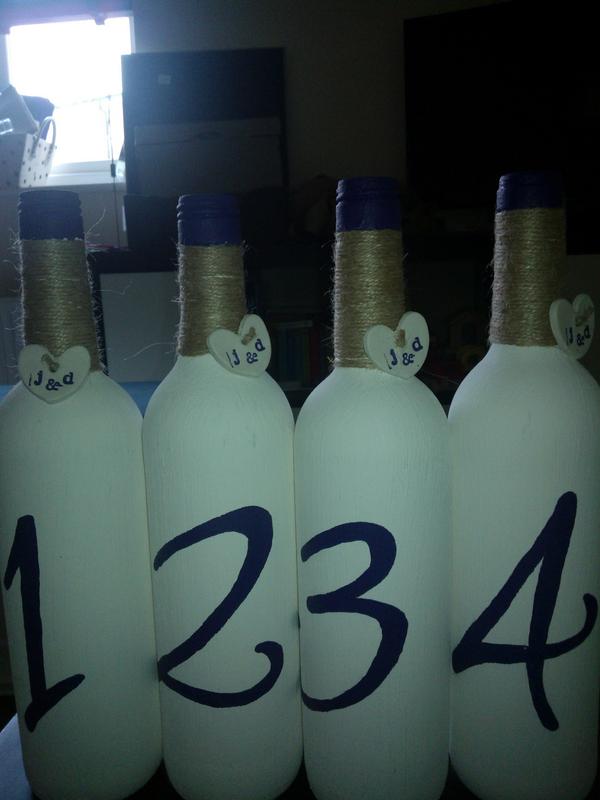 Hand painted bottles wrapped with twine with air dried clay hearts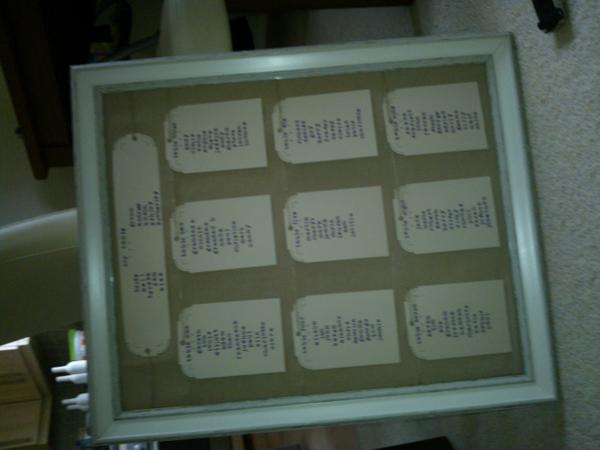 Sorry it's the wrong way around but you get the idea! All names hand stamped and tags made to match our invites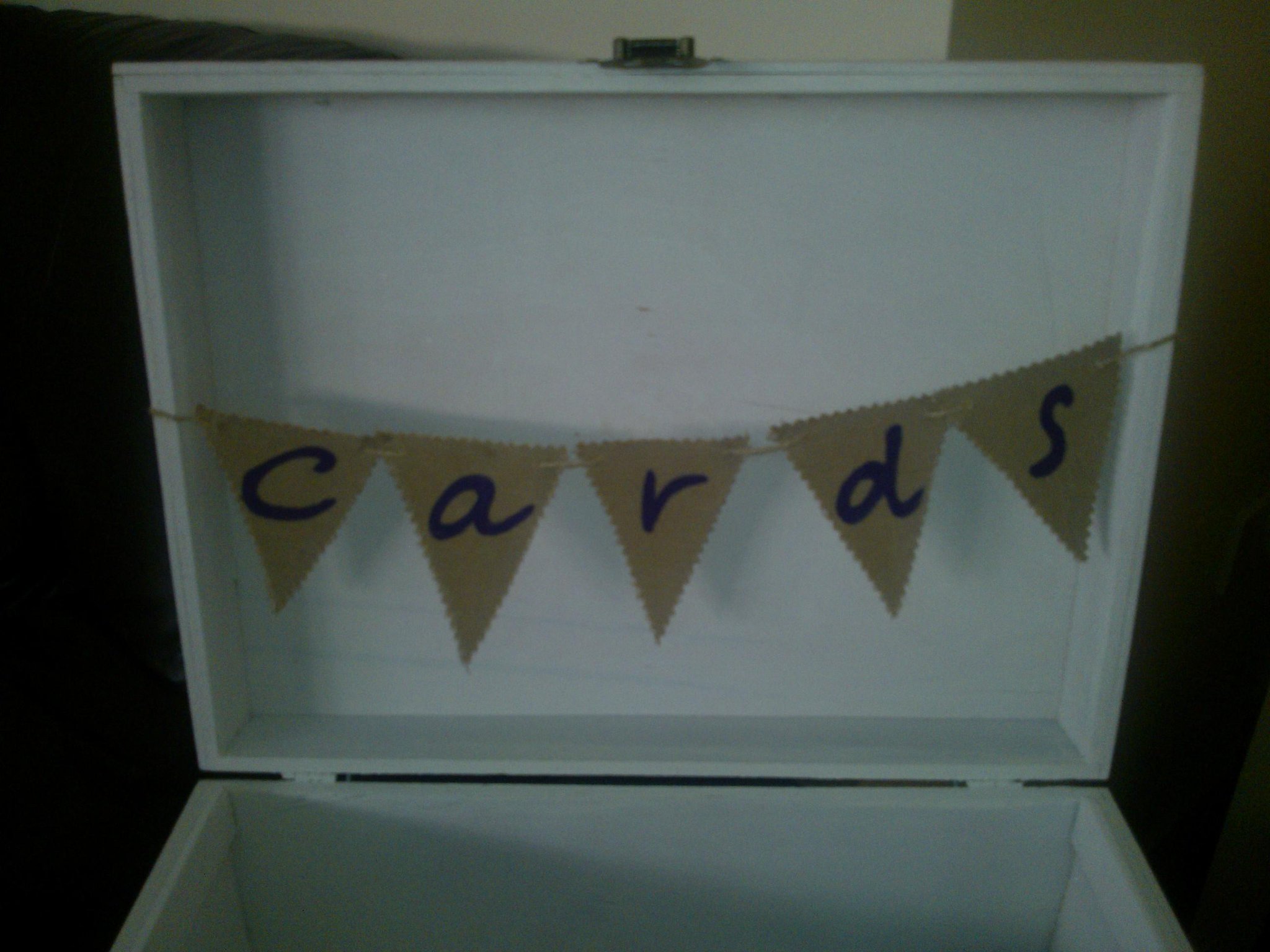 Hand painted card sign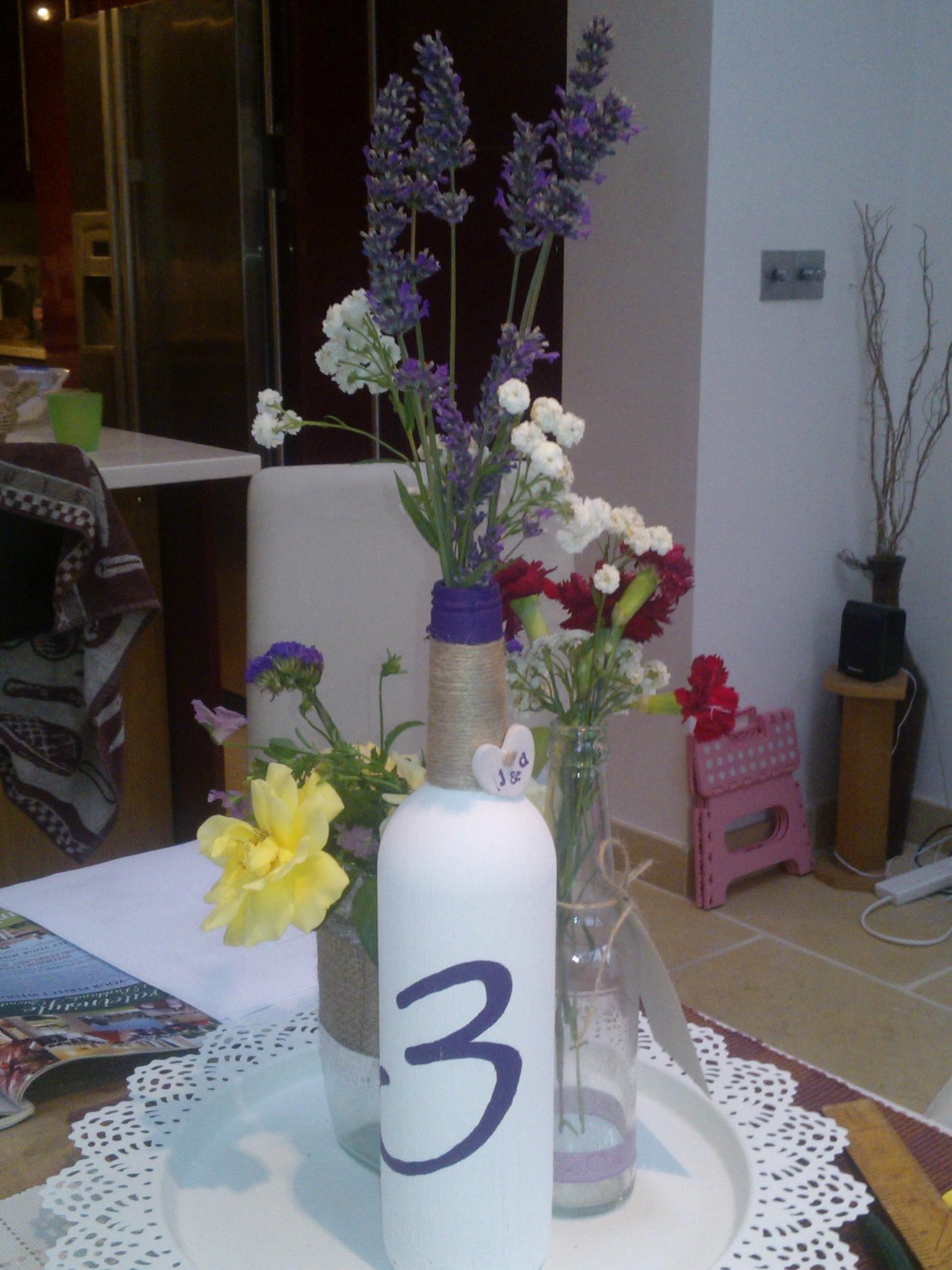 Mock up of wedding table centre pieces, with some of the wrong colour flowers-was just for a rough idea using flowers we already had
Deep breaths, it will all be ok, it has to be! I NEED my nerves and anxieties to stay at bay on the day getting quite worried about that! Any tips or remedies!?